Pricing
The pricing for our services is a flat rate of $18 per hour, plus 15 cents per mile for any traveling.
We currently accept cash, check, money order or we can also provide you with our PayPal address so that you send the money through that.
Research will be done in a more or less "first come, first served" fashion; however, there is often 'down time' while waiting for records to be returned from institutions, etc, and we may switch back and forth between cases, as it benefits both the genealogist and the research - it is often best to step a way for a little while from the same group of facts and when you return, you often see something new you didn't realize before.
Services
The following services are what our research can include:


The primary service is research itself, which involves searching for ancestors by combing through records and possibly newspapers, etc, looking for clues to your past.


We will likely run into census data, war registration cards, death certificates, birth certificates, etc, and we can provide these to you, if you'd like.


We will also provide you with a family tree, so that you can easily see the research of your ancestors.

In some cases, we run into records of birth, baptism, death or marriage in another language. If you wish, we can also transcribe and translate some records, particularly French and German - if they are not too difficult - we reserve the right to refuse certain illegible records, as some old script is exceedingly difficult, but we will certainly try our best.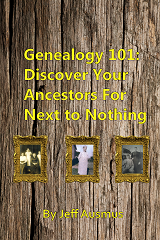 Our new e-book details all the tips and tricks we have learned over the last 10 years, so that you can begin your own genealogy journey yourself today! Get your copy now on Amazon!
DISCLAIMER: As stated in the contract, the fees are incurred for the research, and do not necessarily mean that we will be able to find your ancestors. For many reasons, such as poor record-keeping, fires, floods, wars, bad handwriting, poor spelling, lost records, etc., it is very common for there to be little or no information on a particular individual, or groups of them. As such, we cannoy absolutely guarantee that our research will result in the outcome you might expect; but we can guarantee we will try our best!
Genealogy Packet
Please fill these three forms of our Geneaogy Packet out to begin: Contract, Tree Info, and Goal Sheet. For the tree, please fill out what you know - your info, your parents, grandparents, etc - anything you know, so that I can begin research! For the Goal Sheet, please fill out what your hopes for this research are; and finally, sign the contract, and choose the options there.